It was from Rule Britannia to Viva La Spagna last week as my cruise called in at VALENCIA. There wasn't much time to spend in Valencia and Mr MB wasn't feeling so well so our opportunities for adventure were limited. On the sunny side it was a beautiful day and what struck me most about Valencia - apart from the Churros, more on this later - was just how chic it was. If it was the metaphor for any of the key style personalities it would be City Chic.
Are You A City Chic?


If you would describe your wardrobe as eclectic or filled with relaxed and casual items then a 'City Chic' you are not.

City chic you are if you are one of those ladies who looks effortlessly amazing in camel trousers and a crisp white shirt. You like to stay current but prefer investment buys in luxe fabric and simple silhouettes. You'll add a dash of 'fashion' perhaps in contrasting colour through your accessories. You always understated yet look perfectly groomed and if I can be forgiven for saying so, expensive. Stand up and take a bow City Chic ladies as lots of other style types really want to be you.
Think:
Carla Bruni-Sarkozy or Sharon Stone or Holly Go- lightly. Sometimes Victoria Beckham, though admitedly she switches between City Chic and Dramatic, with a tendency to the latter.
Want To Emulate City Chic?
Think
tone on tone
or a splash of colour against neutrals, perhaps in the shape of a scarf tied to your bag or like the red belt in the pic. City Chicers commonly have a statement hand bag (often large), shoes, sunglasses or one piece of stand out jewellery. They don't do excessive details so best to avoid this. And 'viola' - city chic.
And so back to Espagnol. Famous Spanish Fashion Brands to buy in Switzerland include:
Zara
- within
Jelmoli
,
Glattzentrum
- great for all personality types though mainly for the columns, neat hourglasses or smaller framed among us. I tend to find it a little on the small side, sizing wise. Our Spanish counterparts must be neat under the arms as this is where I struggle. Have you ever been in a changing room with a dress on, that is stuck on your shoulders and you feel like you are being hung up on a coaat hanger. That's commonly me in Zara ;-))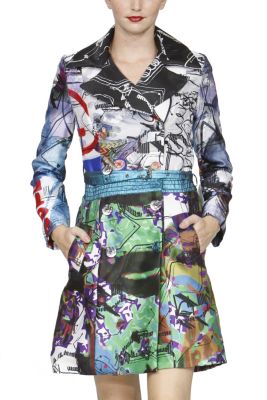 Desigual 2012

Mango
- Bahnhofstrasse, Zurich & Untertor 1, Winterthur & Glattzentrum. A bit of everything and home to my summer 2011 regret. I so wish I had bought the black maxi dress with the gold spots.
Desigual
- within Jelmoli &
Globus
& at Glattzentrum - various others as Desigual has lots of concessions and is also a franchise retailer. Lots of bold use of colour and PATTERN with what I would describe as a sort of 'artwork' and often 'patchwork' look about it. I love the coats. Not so City Chic though. More creative / dramatic / romantic.
Mango Essentials
Look Book Image - 2012
Massimo Dutti
- Bahnhofstrasse, Zurich. Gorgeous store with a bit of something for everyone. Lots of City chich opportunities here but with soft tailored items. It has a range of colour palettes though something about it sort of says 'natural' to me.
And so back to the Churros - deep fried sweet pastry straws served alongside a cup of pure melted chocolate. Swooooooooon. If ever there was a reason of itself o go to Spain this has to be it. OMG - delicious, delicious, delicious. As a Scot (we love a cheeky deep fried sweet treat ;-)) this is heaven. It's also precisely why I can't fit myself into as much of 2012 Zara range as I would like to.
Chic-ly yours, Lady Mirror Ball